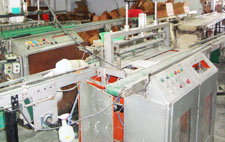 LAUNDRY SOAP FROM OILS AND FATS (UPTO 10 TONS/HOUR)
Oil and fats received in drums are emptied in a tank and blended in the required proportion. Caustic soda received in flakes / pearls is dissolved in a tank and diluted to the required concentration.


The blended oils and caustic soda are taken to the respective service tanks and reacted in a Crutcher to form Neat Soap.
WASHWELL also offers a flexible plant for Continuous Neutralization of Soap Grade Blended Fatty Acids / Fatty Acid Distillates and / or Continuous Saponification of Soap Grade Neutral Oils / Fats without Glycerine extraction (CONNEUT) to form Neat Soap. The neat soap (from the Crutcher or CONNEUT) is then passed through a continuous vacuum soap cooling and drying plant where it is sprayed under vacuum dried and extruded in the form of a bar. (Required percentage of Sodium silicate is added to the soap to enhance the washing properties.)
The extruded bar is cut and embossed on the surface and packed.
WASHWELL provides Engineering, Manufacturing and Supply of Equipment, Machinery and Process Plant for making the following Laundry Soaps:
1. Pure Laundry Soap (62 – 65% TFM) from Neutral Oils / PFAD/CFA +DFA
2. Filled Laundry Soap (48 – 60% TFM) from Neutral Oils / PFAD / CFA + DFA with water soluble
3. Filled Laundry Soap (48 – 60% TFM) from Neutral Oils/PFAD / CFA + DFA with water insoluble
4. Multipurpose Soap (60 – 70% TFM)